We Can Get Your Home Looking Beautiful Again
Before and After Pictures for Residents in Redding, California
No Matter Who You Are or What Your Situation Is, We Can Organize Your Home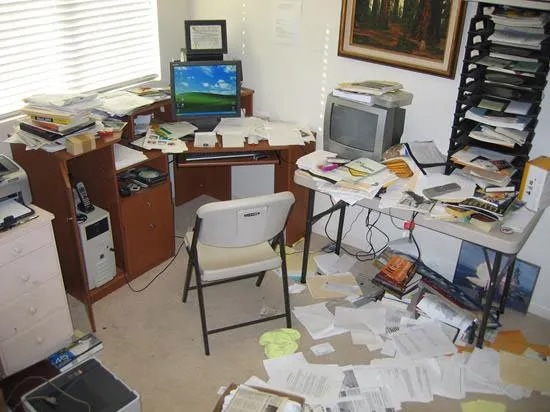 Before
This client's home office had actually overflowed onto the dining room table. The complete office make-over included floor-to-ceiling bookshelves and closet (not shown).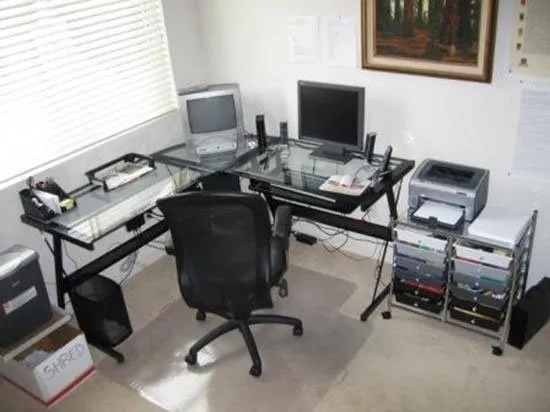 After
I helped the client sort through a large volume of paper in the office and on the dining table. We found many treasured and important documents along the way, as well as a large inventory of office supplies. All paperwork was organized into a new filing system. Desk, chair and storage were purchased and assembled. Office equipment and supplies were reorganized into a work-friendly layout allowing the client to reach everything without getting up from the new ergonomic office chair.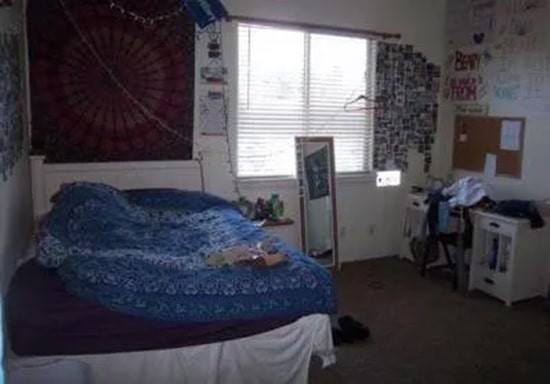 Before
This redesign staging project was in preparation for the sale of the home.This bedroom was of comfortable size and just needed decluttering.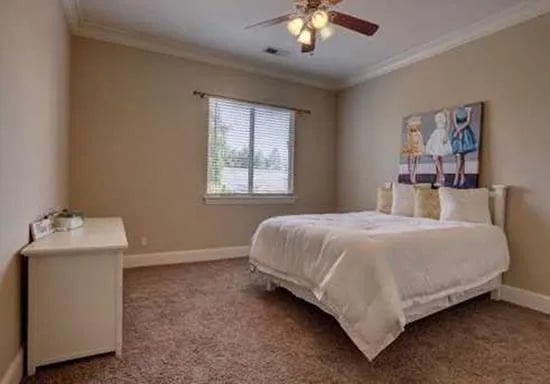 After
The bedroom was repainted and existing furniture was rearranged into a setup appealing to buyers.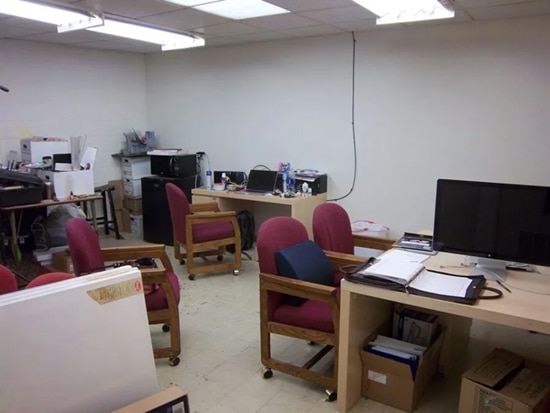 Before
Lack of proper storage made this work space difficult to use.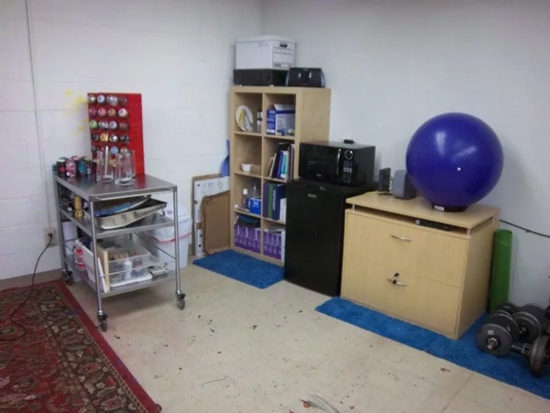 After
All supplies were sorted, furniture pieces sourced, assembled and placed to maximize the usability of the space.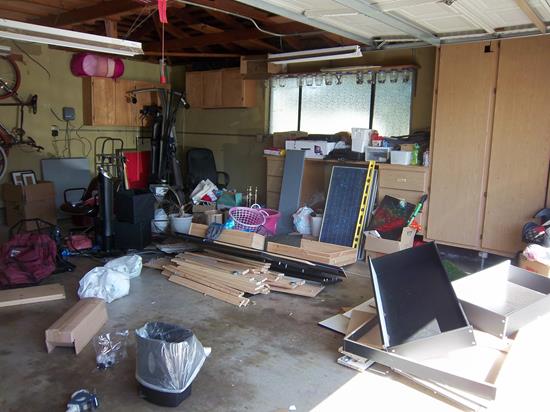 Before
This garage needed extra storage as well as organizing.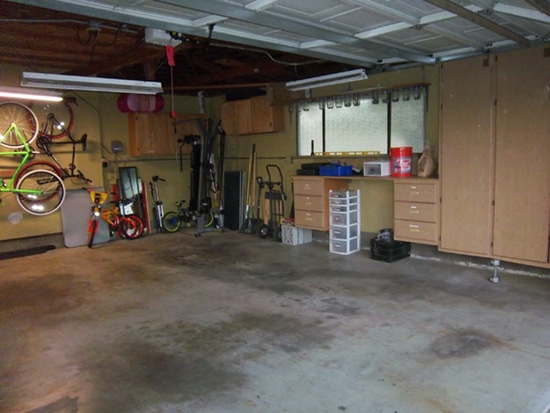 After
Extra storage was purchased and assembled to fit on the left side of the garage to accommodate all the extra items that didn't fit into the built-in cabinets or tool bench. The tool bench and cabinets were sorted, purged and organized so the client could find all tools and supplies quickly and easily.
Bed and Breakfast Living Room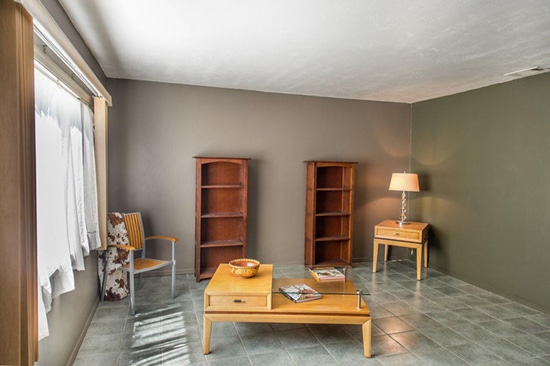 Before
This living room was very dark and uninspiring. It needed to be transformed into a comfortable and inviting place to relax without any making changes to the uniquely colored flooring.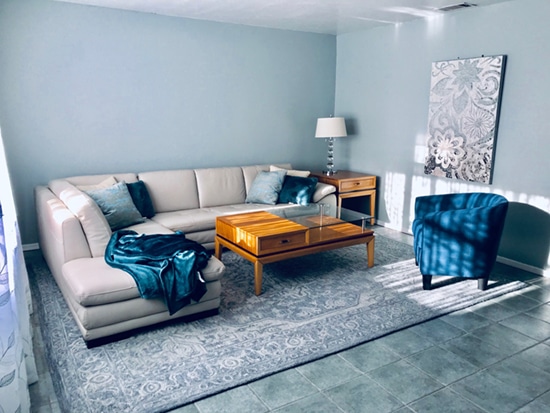 After
The dark paint was replaced with a color that complemented the tile flooring. Furniture and furnishings were sourced to maximize use of the space with a high-end look.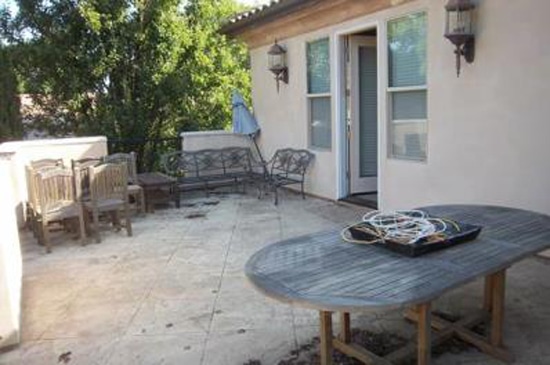 Before
This redesign staging project was in preparation for the sale of the home. The deck above the patio offered a gorgeous spot to enjoy the sun but was unappealing.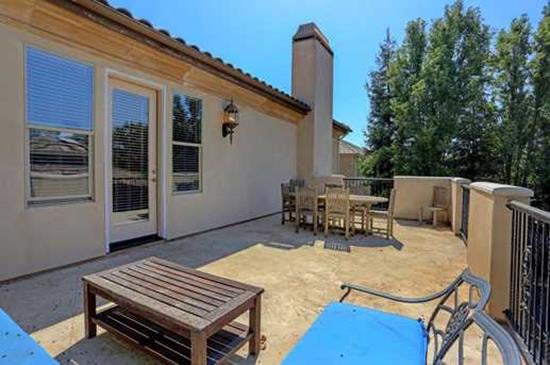 After
After pressure washing the stamped concrete and removing unneeded items, the furniture was arranged to define the sitting and dining areas and create an attractive and inviting atmosphere.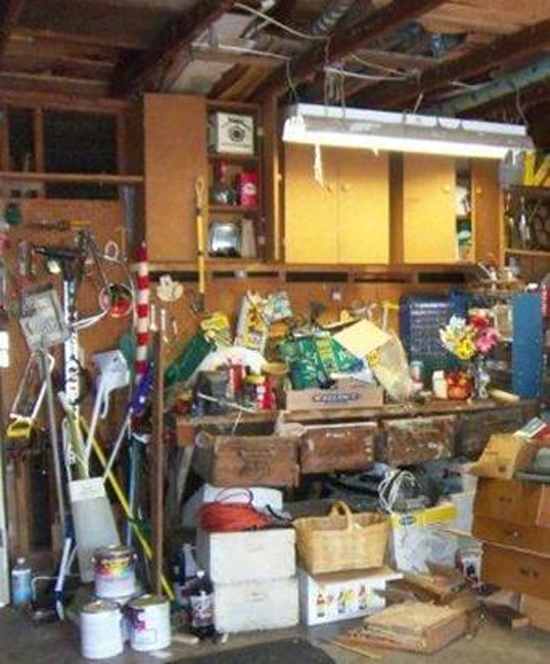 Before
This workbench was a project within a larger garage organizing project. Once the garage was completely sorted and purged, all of these items were found that belonged in the workbench area.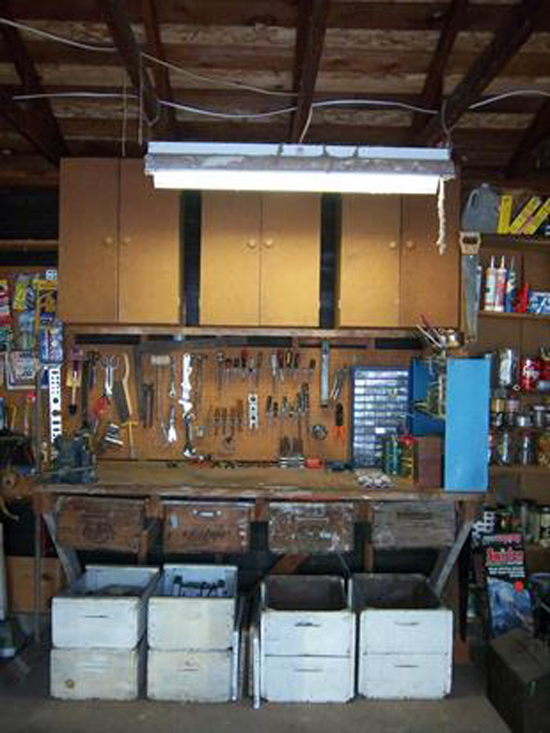 After
The existing cabinets above, peg board, and heavy duty boxes below provided both ample storage and easy access for all of the tools and supplies.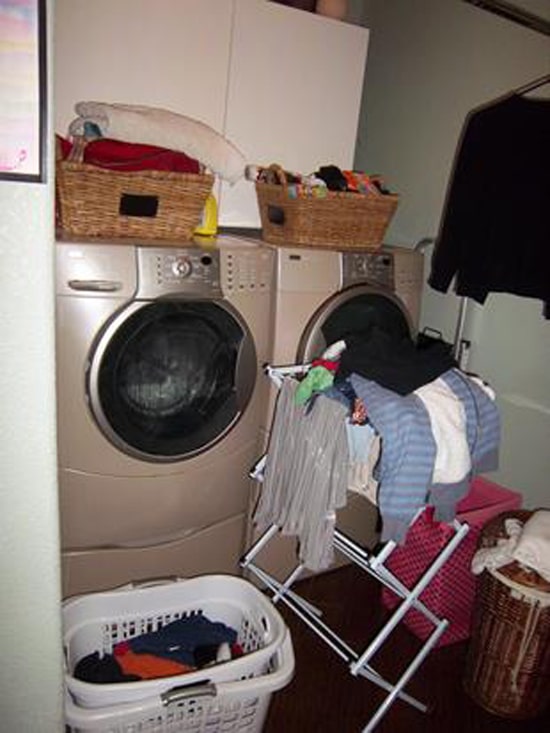 Before
This laundry room had become cluttered because the cabinets were not being used efficiently.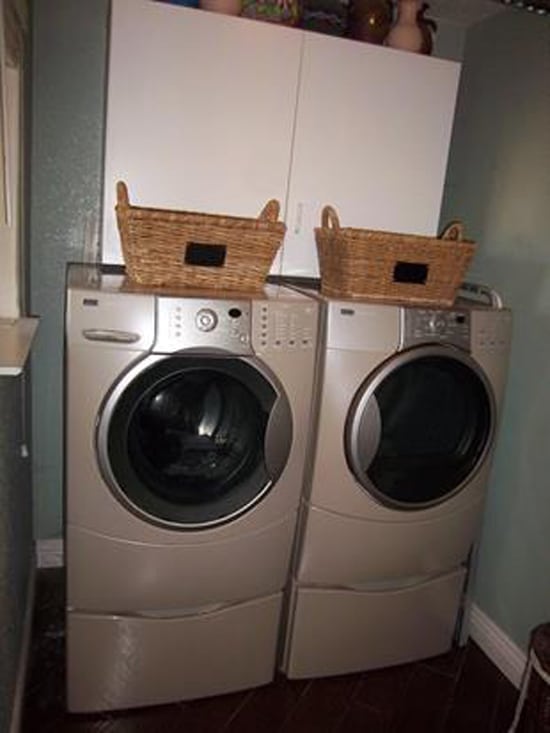 After
Once supplies were organized into the cabinets the decorative baskets no longer needed to be used for storage. This made it easy to get into the cabinets while maintaining a decorator look.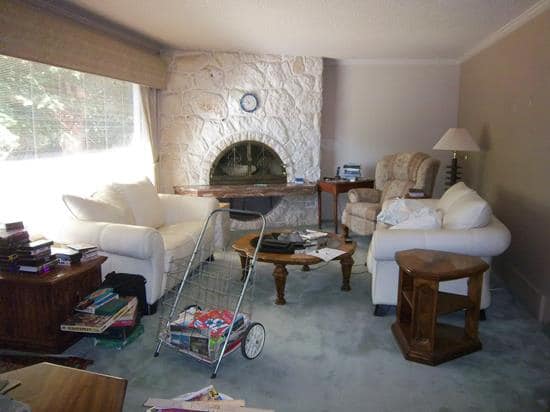 Before
This redesign staging project was in preparation to rent the home. The living room furniture layout was awkward. The fireplace wall was designed at an angle to the rest of the room and created an awkward space at the far end of the room.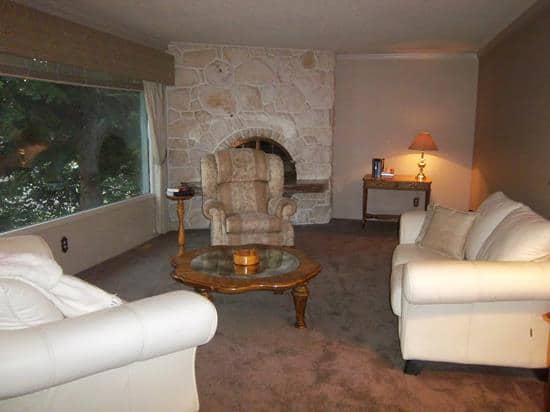 After
The paint was touched up and new carpet was selected and installed. The redesigned furniture layout greatly improved the feeling of the room and accentuated its comfort and spaciousness, while giving definition and warmth to the spece next to the fireplace.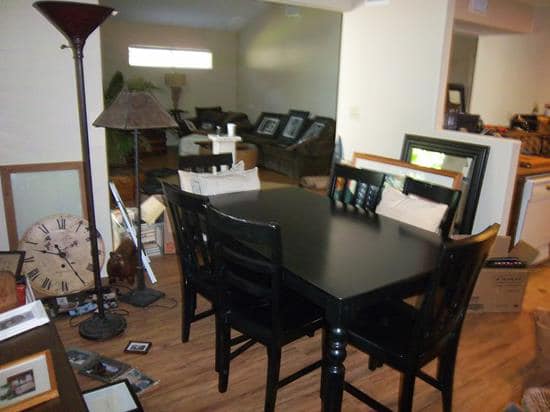 Before
This was a whole-house move-in project which included furniture placement and hanging artwork. This photo shows the dining area and living room about half-way through the project.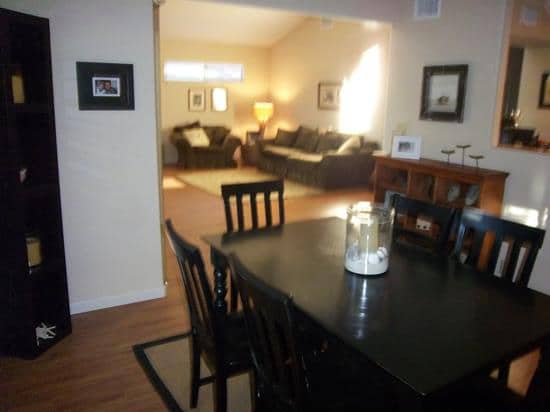 After
The living and dining areas after the design was completed with rugs and smaller furniture pieces placed, artwork selected and hung, other decorative items placed, and all miscellaneous items stored in appropriate places.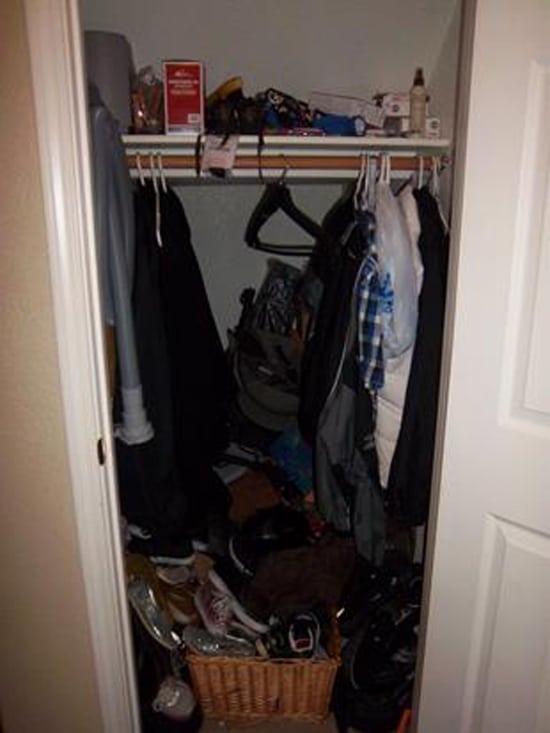 Before
This under-stairs closet provides lots of cubic feet but a sloping ceiling makes the space difficult to use. As a result, items get lost and forgotten.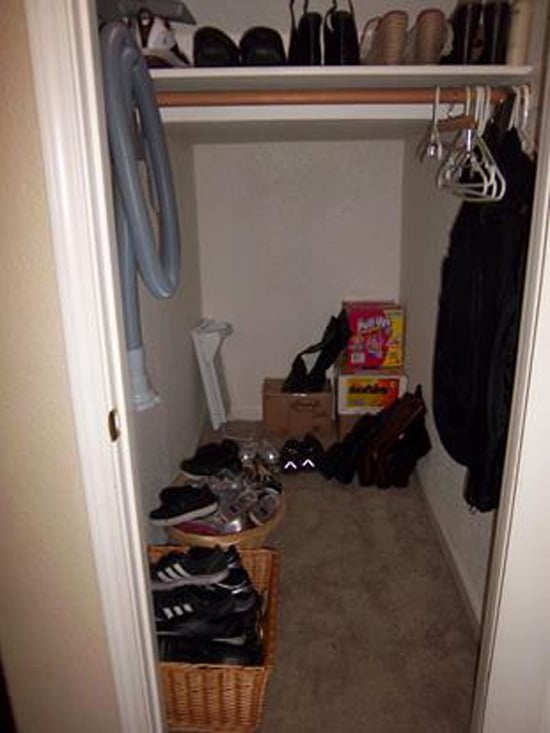 After
Many pairs of shoes and other miscellaneous items were found to be no longer useable and were discarded or donated. Many other items were moved to their proper homes. Remaining sandals and athletic shoes were organized into baskets – a storage approach that worked well with the family's lifestyle.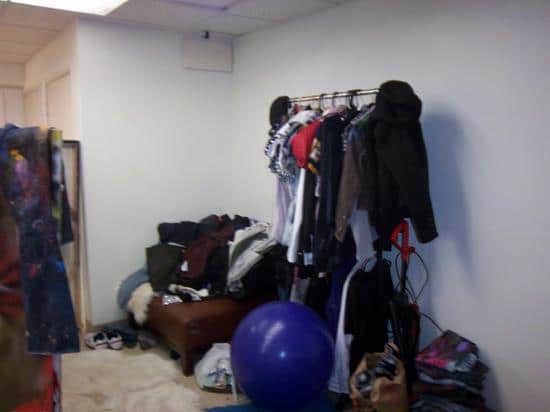 Before
This creative client needed a space to double as storage for his fashion creations and a changing room for his models.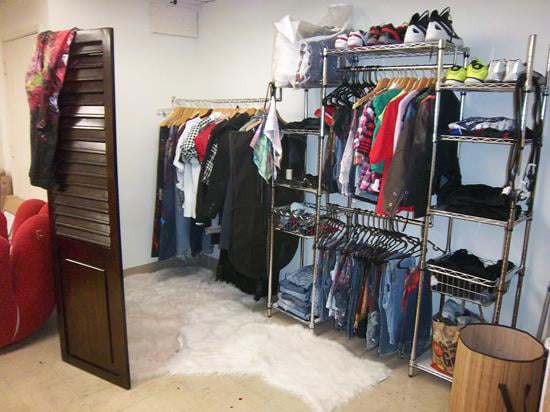 After
A privacy screen and convenient and appropriately sized storage rack were purchased and assembled. All clothing items were sorted and organized. The space was transformed into a useful and more visually appealing area.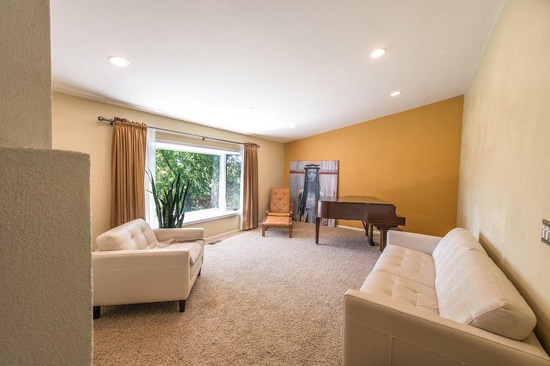 Before
This home had a living room with great unrealized potential.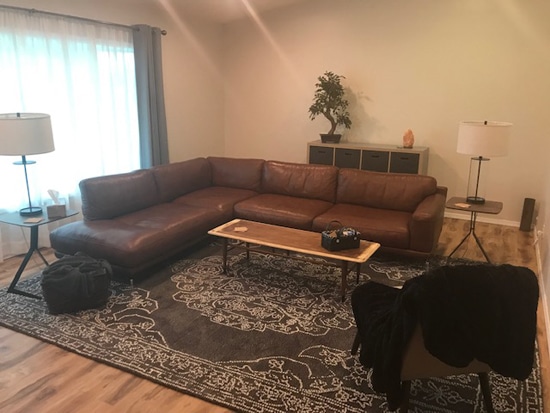 After
The frayed carpet was replaced with a gorgeous luxury vinyl tile. The room was painted in a neutral color to accentuate the height of the vaulted ceilings. Furniture, lighting and window treatments were selected to complement the luxurious modern leather sectional to create a stylish and comfortable living space.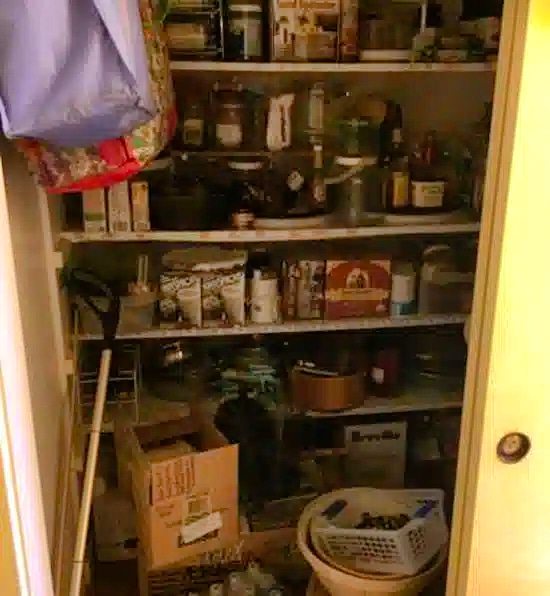 Before
The items on the floor of this walk-in pantry made it difficult to enter the pantry and reach anything.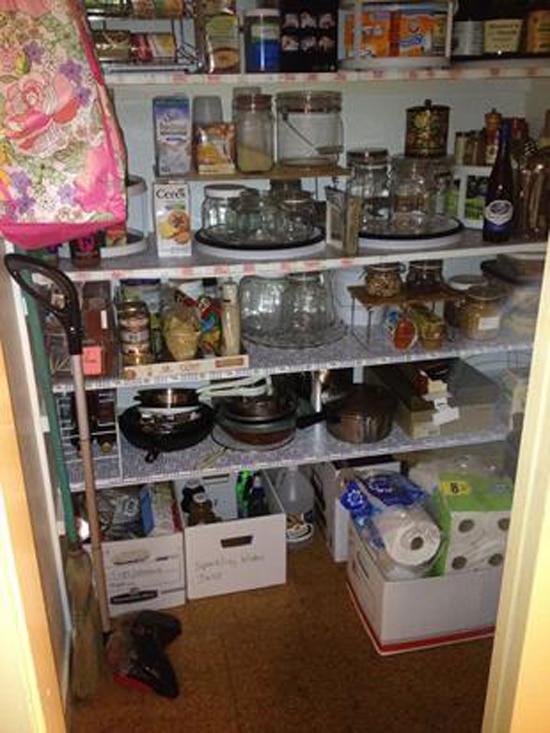 After
All shelves were reorganized making more efficient use of shelf space and allowing the floor area to be cleared.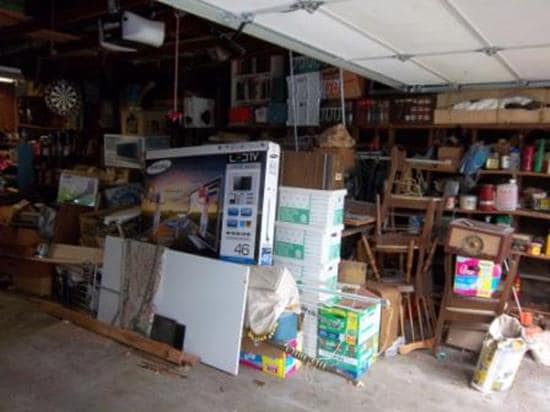 Before
Garages tend to become storage space for all kinds of things…except the car. Years of accumulation made it impossible to access most of the items in this garage.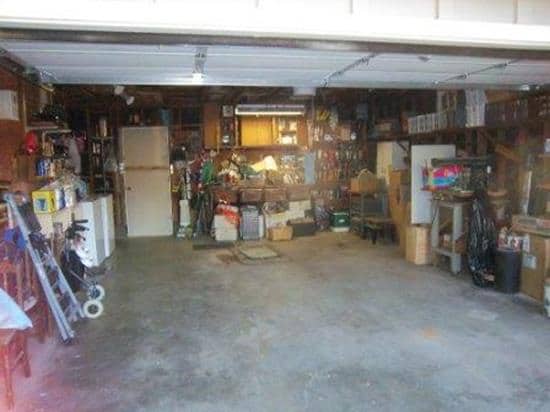 After
All items were sorted, including those in the rafters. Several truckloads of items were disposed of. The remainder were organized into existing storage, leaving plenty of space to park.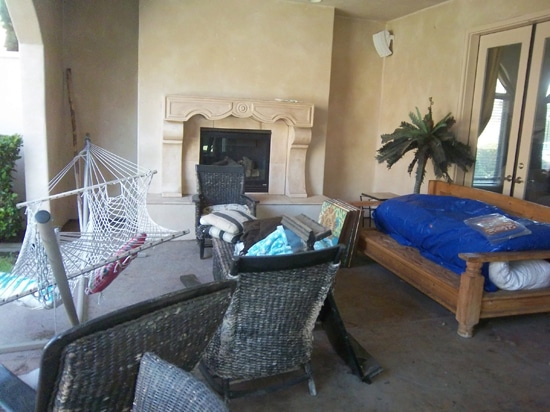 Before
This redesign staging project was in preparation for the sale of the home.The pool patio was a significant design feature of the home but needed decluttering and refurbishing. The patio's magnificent fireplace was blocked by furniture and clutter.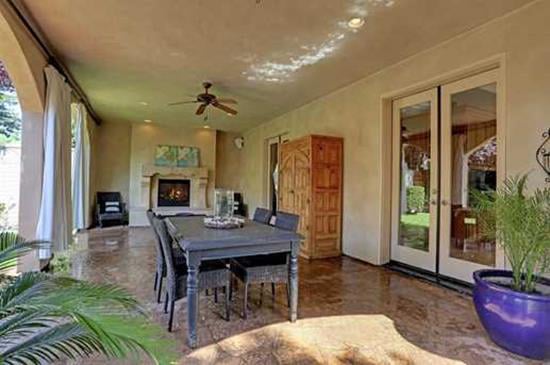 After
The concrete was pressure washed. The dining table, chairs and accent pieces were restored and arranged to recapture the Tuscan beauty of the space.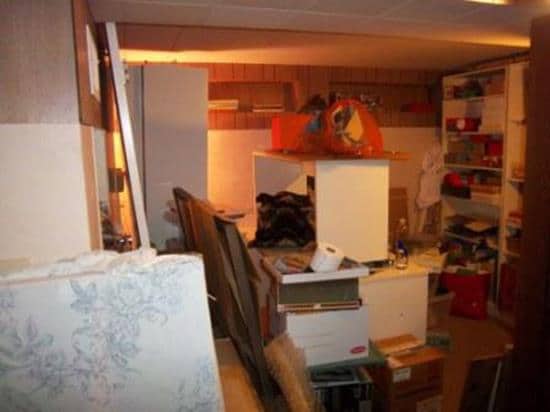 Before
This client wanted a sewing and craft room in the basement. There was plenty of storage space already built in.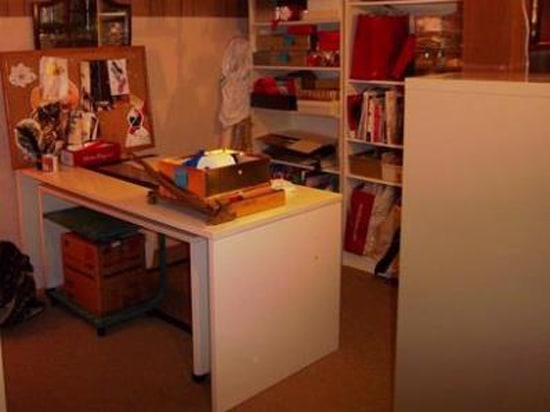 After
Once the space was decluttered, the built-ins provided convenient places to store wrapping supplies, fabric and sewing materials.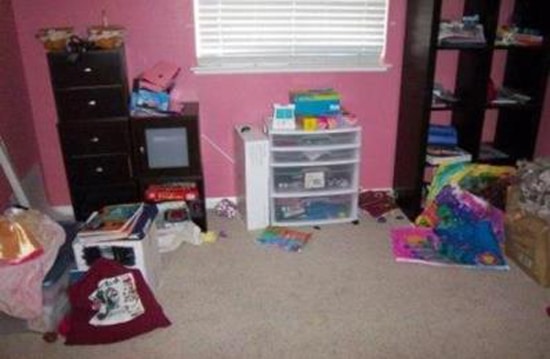 Before
This family enjoyed crafting but needed supplies organized and a place to work.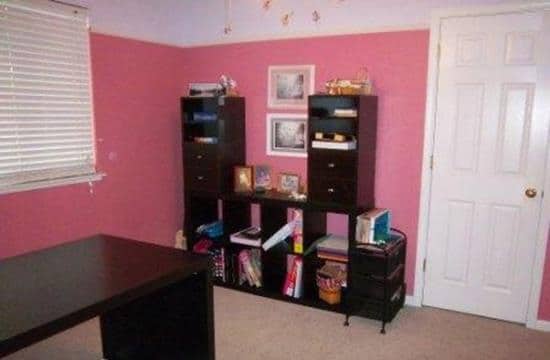 After
A work desk and extra storage were purchased and assembled. All supplies were sorted and organized allowing the family to gather and do fun projects together.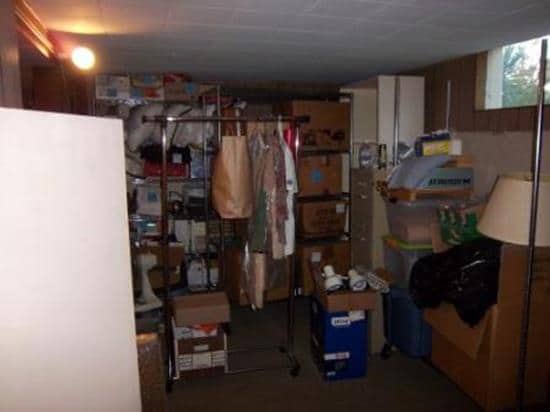 Before
This before photo was taken about halfway through the organizing process – extra shelving units had been purchased and mostly assembled.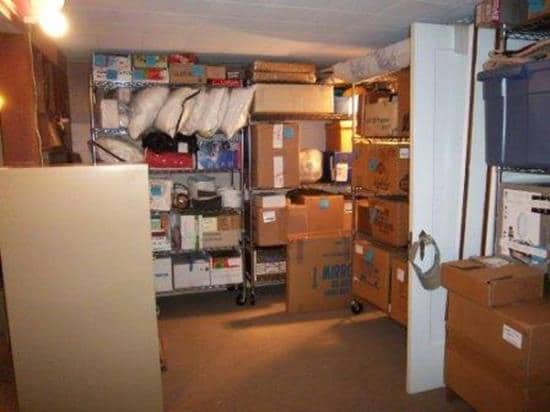 After
The storage area was arranged to accommodate valuable artwork, family treasures, extra linens and dishware, and other items.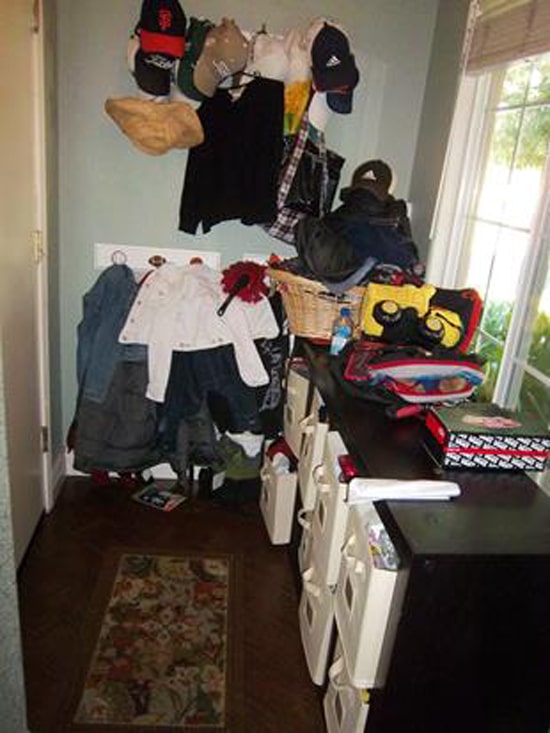 Before
Lots of kids – lots of stuff, especially where everyone comes in and goes out. Sports equipment, jackets, sweaters, backpacks, and shopping bags were mixed with other items that belonged elsewhere.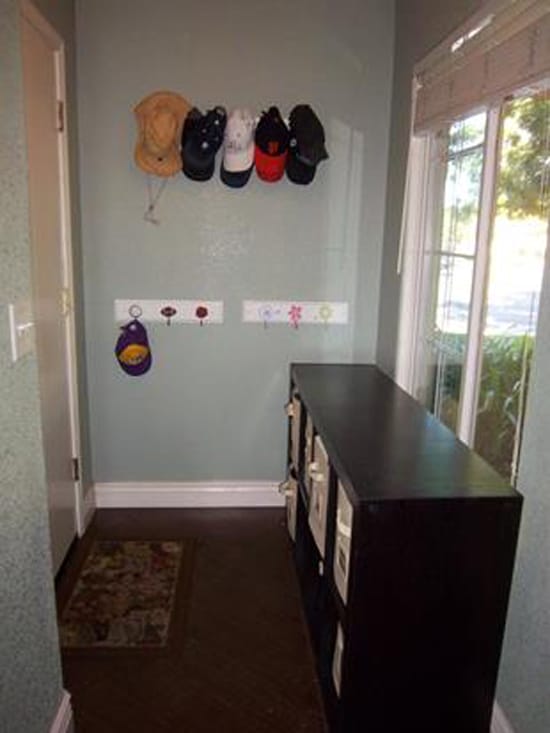 After
After decluttering, family members were assigned their personal storage bins making it easy to find or put away their items.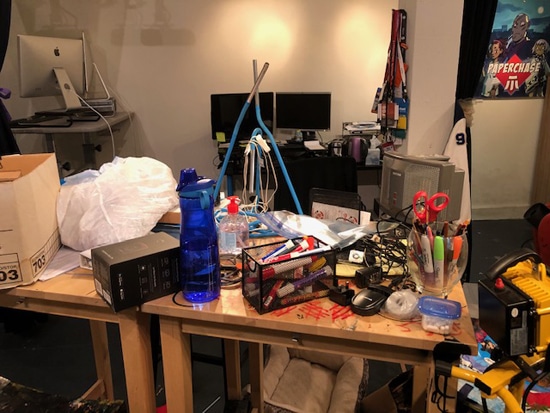 Before
This creative artist's business office needed a bit of order.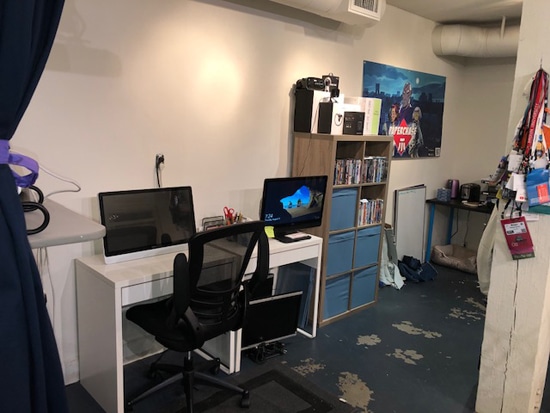 After
After decluttering and redesigning the space, areas were defined for computer desks, supplies and snack area.